Description
Edit
The Mine Shaft is an underground secret level.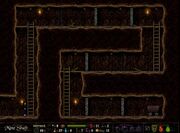 The Mine Shaft can be entered by carefully jumping across the chasm at the bottom right of the Cave Dungeon.
Objective
Edit
Destroy every rock wall with bombs and reach the Mine Cart Treasure.
Main Article: Enemies
Main Article: Items
Spoilers and Hints
Edit
Rock walls will remain broken until the player leaves the level, so should the player die he won't have to go back and get more bombs.
Ad blocker interference detected!
Wikia is a free-to-use site that makes money from advertising. We have a modified experience for viewers using ad blockers

Wikia is not accessible if you've made further modifications. Remove the custom ad blocker rule(s) and the page will load as expected.