Dark Castle (Sega Genesis)[[Image:]]
Developer(s)
Original Silicon Beach Software
Port Three-Sixty Pacific, inc.
Release date(s)
1991 (Sega Genesis/Mega Drive)
Genre(s)
Platform game
Mode(s)
Single player
Platform(s)
Sega Genesis - US
Sega Megadrive - Europe.
This article mainly refers to the Genesis version of Dark Castle, and the differences between it and other versions, for more general Dark Castle info visit Dark Castle
After winning many awards, and being a top seller on the Mac, Three-Sixty ported Dark Castle to many systems, leading to Electronic Arts trying with Sega's home console, the Genesis/Megadrive.
The graphics for Dark Castle on the Mac where highly praised for the clearness, and high resolution.
The graphics were vastly redone for the Genesis port of Dark Castle, with very different looking sprites for things. the backgrounds also changed drastically, with some levels such as Trouble 1, taking place outdoors when they originally didn't.
The Genesis could however, render color. Though, even with the color, the graphics appear highly washed out and blurry.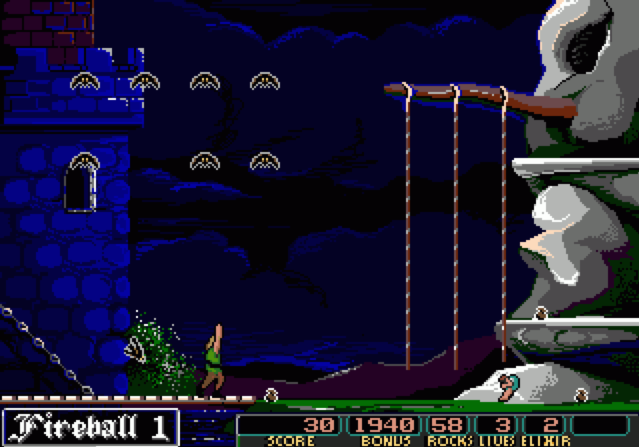 The sounds on the Mac version of Dark Castle were highly praised. Where as the Genesis port (due to the limitations of the YM2612) of the game switched, or removed many of the sounds, and the remaining ones sounded noticeably worse.
Additionally, this game is known for having Dark Castle's intro music Toccata Fugue In D Minor, play through on loop throughout the entire game. While the music can be turned off, it has to be turned off when there isn't a note playing, otherwise it sustains the current note.
Here are some of the changes to sounds in Dark Castle for the Sega Genesis:
Instead of a wing-flapping sound, bats just continuously squeal as though they are dying.
When crows dive, they make the sound formerly reserved for their spawnage.
When our hero is dizzy, his audible stupor is replaced by the sound of his double-take upon remembering gravity (which, incidentally, happens every time he falls to lower ground).
Electronic Arts' control scheme for Dark Castle on the Genesis read out as such:
While Paused:
Up/Down - Cycle through settings.
A + Left/Right - Toggle current setting (Difficulty/SFX/Music).
Start - Resume.
Left/Right - Select Door.
C - Enter Selected Door.
In Game:
Start - Pause
B - Duck/Shield
B+Down - Pick up/use
Left/Right - Movement
A - Jump
Up/Down - Different arm positions for aiming/climb.
C - Throw rock/fireball
Differences from other versions
Edit
Reception
Edit
The reception of the Sega Genesis version was highly negative next to the CD-i, with critics panning its highly stiff controls, washed graphics, bad sound, and Duncan's even clumsier co-ordination. Most who had played this version didn't know anything about Dark Castle. Overall, it was a badly made port.
The general consensus is that the game is highly inferior to the Mac version, in graphics, sound and gameplay.
This is also considered to be the worst and most infamous port of Dark Castle.
Ad blocker interference detected!
Wikia is a free-to-use site that makes money from advertising. We have a modified experience for viewers using ad blockers

Wikia is not accessible if you've made further modifications. Remove the custom ad blocker rule(s) and the page will load as expected.