Description
Edit
The Cave Dungeon is a trouble-type level, where the player ends up if he falls off the screen in certain places. It also leads to the secret level, the Mine Shaft.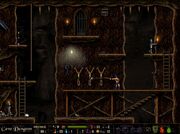 The Cave Dungeon can be entered by falling off the screen in any level leading from Ante Room II that is not directly in the Castle itself. The Cave Dungeon can also be reached intentionally by entering the old looking doorway in the Courtyard.
Objective
Edit
Activate the two switches which will open the door at the top and let down the rope.
Main Article: Enemies
Main Article: Items
Spoilers and Hints
Edit
Ad blocker interference detected!
Wikia is a free-to-use site that makes money from advertising. We have a modified experience for viewers using ad blockers

Wikia is not accessible if you've made further modifications. Remove the custom ad blocker rule(s) and the page will load as expected.